Yachting World Port Vila Marina and Moorings
Yachting World will be your home port in Port Vila for moorings (includes water), sea wall marina services (with water and electricity), furnished 2 bedroom air conditioned apartments with kitchen, laundry, internet, for some shore leave right in front of your yacht, diesel fuel, laundry, assistance with clearing in, and internet access.
The Yachting World and Waterfront Bar and Grill complex, with its sheltered location and deep water access provides a lively and attractive yachting center and between the two complementary businesses, they make Port Vila one of the Pacific's most comfortable and hospitable destinations for cruising yachts.
Call "Yachting World" on VHF Channel 16 when you arrive in Port Vila. They will help you arrange for inward clearance and make arrangements for a mooring or marina berth at the same time. If you want to contact them in advance to assure a place on the wharf, call them on International + 678 - 23273 or email them from their website at www.yachtingworld-vanuatu.com
Write to Yachting World P.O. Box 1507, Port Vila, Vanuatu
The staff at the Yachting World office are very helpful and can assist you with information, fuel, water and laundry. Just ask if you need help with anything.
Hours are 8:30-12:00 and 13:30 to 17:00 Monday to Friday. 8:30 to noon on Saturday. Closed public holidays and Sundays.

Anchoring in Port Vila harbor is difficult. The protected area behind Iririki Island is small and usually crowded. Holding is not good in most of the shallow parts of the outer harbour. The inner harbour is deep with the only available anchoring areas in 35 to 40 meters of water. The bottom is excellent holding but the black mud somehow manages to strip galvanizing from anchor chains and the remains of old ships can trap your anchor.
You will probably elect to pick up one of Yachting World's yellow moorings in the inner harbour or, if you prefer to have water and electricity and step-ashore access, snag a mooring float by the Yachting World sea wall and tie up to the mooring cleats ashore. Call Yachting World first on VHF 16 and they will help you get settled.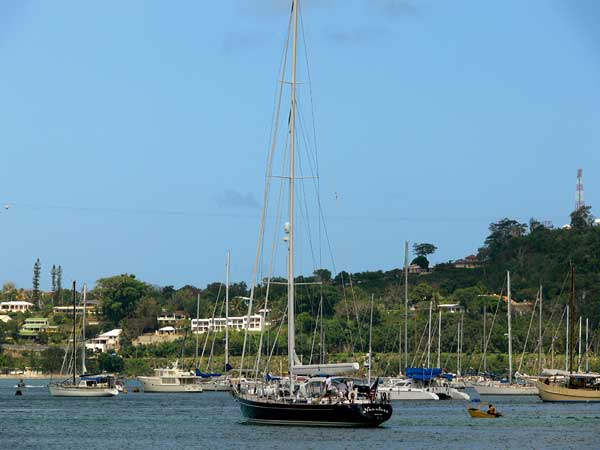 Yachting World crew in Yachting World's yellow boat will assist you to the seawall or mooring.
Yachting world has planks you can use to walk ashore and there are electrical outlets, water taps, and garbage bins within easy reach. You will walk ashore within easy walking distance of central Port Vila's many stores. Yachting World also provides all yachts with diesel fuel, a dinghy wharf (in association with the Waterfront Bar and Grill) and a dinghy landing beach.
Yachting World has free WiFi for yachts on their seawall marina or moorings. WiFi works for boats at the wharf and on closer moorings. Yachts on more distant moorings can bring their notebook or tablet into the marina or Waterfront Bar and Grill to log on.
The only place in Vanuatu where you can easily get fuel

The fuel wharf is directly in front of the Yachting World office. You can fill up any time during office hours as the water along side the wharf is deep (there is a tide gauge indicating depth on the wharf). Their fuel is clean and the nozzle fits into normal sized yacht fuel ports. A water hose is available for cleaning up afterward or filling your water tanks (there is a small fee for water if you are not using the Yachting World harbour moorings or sea wall moorings). Be sure to take advantage of the Duty Free price for Diesel when you fill up prior to departure. You will need to tell Customs you want to buy Duty Free fuel and they will give you the necessary forms.
If you have a large motor yacht needing a large amount of fuel of if your yacht's mast is too tall to go under the overhead wire of 24-Metre safe clearance you must get your fuel via mini-tanker at the main wharf. Yachting world will assist you with this by getting the required permission from the harbour master and checking with the oil companies to find the best price for you. This will save you a considerable amount of time and effort at making all the arrangements is often complex and time consuming.